Helen:
400m run
21 KB Swings ( 30 lb)
12 Pull ups (assisted)
3 rounds
I didn't make it to the gym on Thursday or Friday. Thursday morning I took my husband to town to have his kidney stone blasted out and Friday morning I wasn't "feeling it"...although I laid in bed feeling the guilt for not going!
Cool Down:
10 tricep dips
50 sit ups
100 crunches
50 squats
Pre-Workout: PB granola bar
Breakfast - Choco Premier Protein Shake
Snack - Fiber One strawberry streusel bar
Lunch - flat bread turkey sandwich with pepper cracked turkey, mayo and mustard on flat bread
Snack - handful of handmade granola
Dinner - healthy pizza or should I say...Pizzadilla - whole grain tortilla, pizza sauce, mozzarella cheese, orange bell peppers
Idea found
HERE
Dessert - (2)

No Bake Energy Bites

from Gimme Some Oven

...seriously AMAZING!!
Water - 8 oz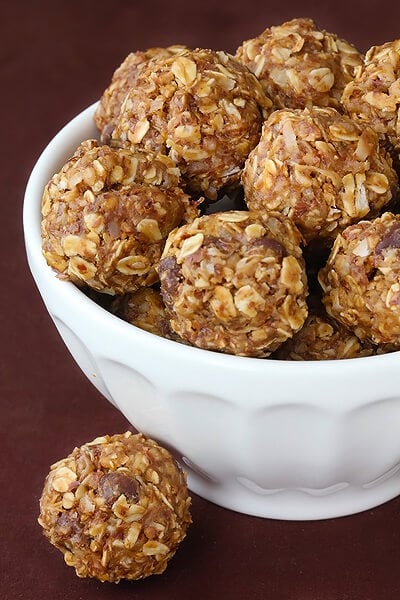 Today seemed like a great day for me and food. Yummy and healthy. I need to have more days like this!